Thermal Flow Meters for Monitoring Dry and Wet Gas Environments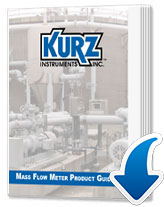 Kurz provides flow meter products of outstanding quality and exceptional dependability that exceed the most challenging industry requirements. In dry or wet gas environments, Kurz flow meters define the industry standard for the highest repeatability, accuracy, and reliability. Applications that call for general information, exacting accuracy, or system protection rely on Kurz devices for real-time sensor and electronics diagnostics, and dependable temperature compensation.
After more than 40 years of manufacturing flow monitoring equipment, Kurz continues its commitment to supplying innovative devices while encouraging the world to look at thermal mass devices as a cost-effective alternative to other flow measurement technologies.
Click here for Kurz legacy products and archives.